We are only three months into 2022 but we have already witnessed the release of a number of fantastic and ground-breaking games. So, if you are searching for a high-quality new game to play, then we have you covered. We have put together a list of the top 5 games released so far in 2022. We have tried and tested all of the games below so that we can give you an honest and reliable review of them all.
Elden Ring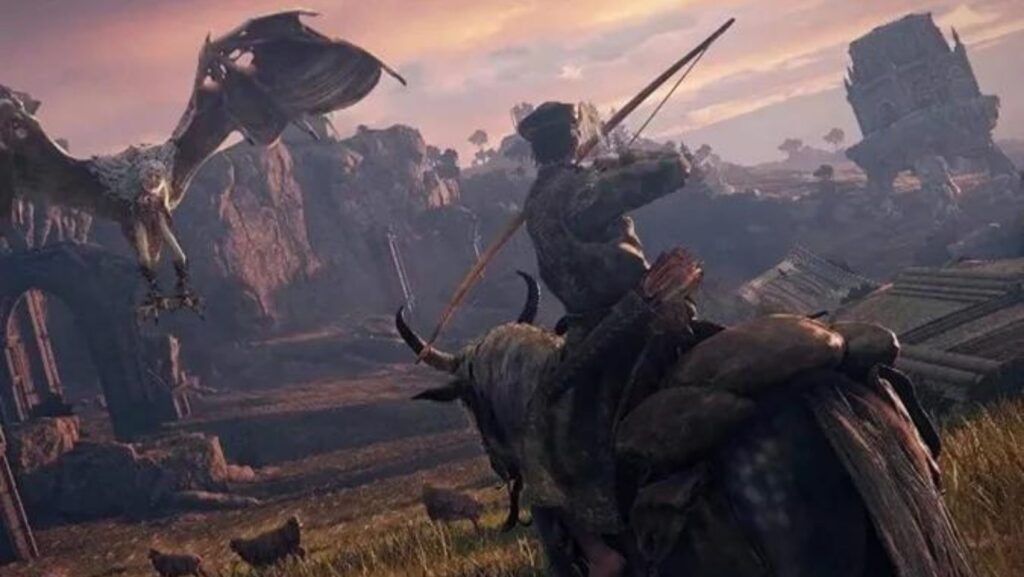 "Elden Ring is a masterpiece." – Iron Pineapple
First of all, we would like to advise that you play Elden Ring on a console, preferably the PS5 or Xbox Series X. some people have run into some issues when paying Elden Ring on their PC. Even though we are only in March, Elden Ring has every chance to be named the 2022 Game of the Year. Elden Ring is created by FromSoftware which has created some of the best action RPGs ever including Dark Souls and Sekiro: Shadows Die Twice. However, with Elden Rings, FromSoftware has stepped it up a notch more. For one, the map is huge and it is a completely open world. To complete all of the quests in the game will likely take you around 100 hours and you are not limited in where you can and cannot go, which gives Elden Ring massive replay ability.
One minute you could be exploring pitch black caves which contain hidden treasure as well as any number of creepy and original enemies whilst the next minute you could be running along a castles wall with heavy rain pelting against your heavy armour. That's if you choose to equip heavy armour. One of my favourite features in Elden Ring is the fact that your character is fully customisable. You can choose to play towards creating a world class fighting knight, an elegant bowman or even a wizard. The game looks beautiful too. Everything comes together perfectly in Elden Ring and we urge you to play this game. There are so many things to discover and do, we are sure you will love it.
Pokémon Legends: Arceus
"It's not perfect but we have been having a tonne of fun playing it." – Gameranx
This is a big shakeup to the Pokémon franchise but it's one we have been waiting for for a long time. A big 3d world where you are free to roam around and catch and battle Pokémon. Arceus is certainly a new step for the franchise as a whole and we think that this may be the future of subsequent Pokémon games. The graphics are not great, but it is easy to look past that. First of all, the game starts off a little slowly and there is a grind to the early stages. Your early goals involve helping other people to settle in the land and to do this you must battle and catch different Pokémon. Arceus revolves around discovery and getting out into the world. 
When you play Arceus, you will quickly realise that there are lots of different quests and objectives to do. This is nice though, as you always feel like you are being rewarded when you complete objectives. If you have been on the lookout for a Pokémon RPG then you should play Arceus!
Total War: Warhammer III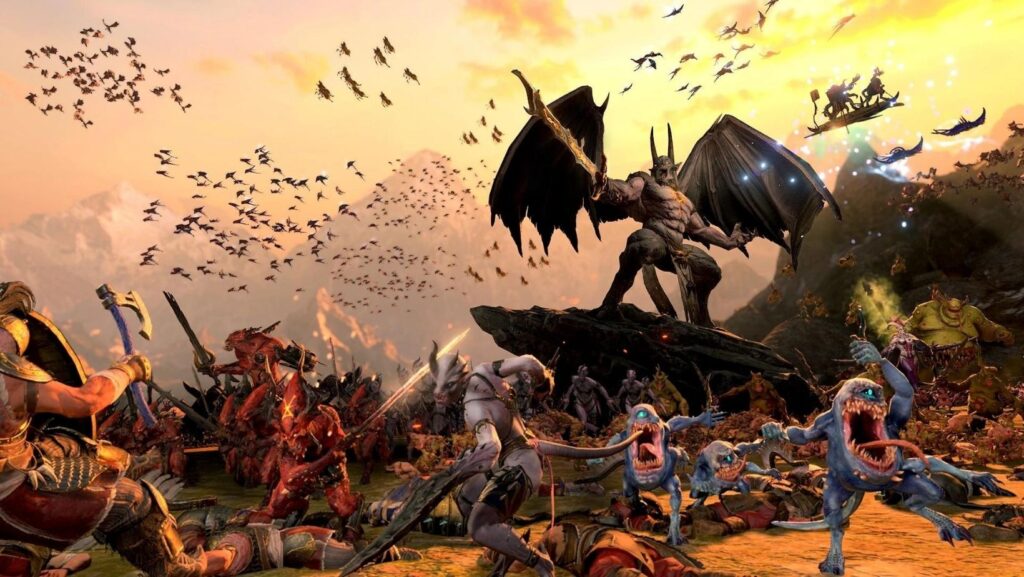 "The core is very familiar as the games before, but Warhammer III has a huge focus on the Chaos factions." Resonant
Some of the best features in this new Total War Warhammer game includes the graphics which look better than any other previous Total War game. It is the small details which really hit home for us. Many of the factions' units have their own personalities, we really love the addition of the Ogre faction, for example. But overall, the battles are immense, and the game really represents the Warhammer world extremely well. Every faction is unique and come with their own unique features and attributes. There are no broken mechanics and battles can be swung based on how good you are.
We would go as far to say that, along with the previous two Total War Warhammer games, these are the best Warhammer themed video games ever. There are some drawbacks though, the AI often seems to be one step ahead of you at all times during the strategy part of the game. In battle, the AI is sometimes a little broken too – range troops especially can do the opposite of what you command them to do. Either way, we still had a lot of fun.
Grand Turismo 7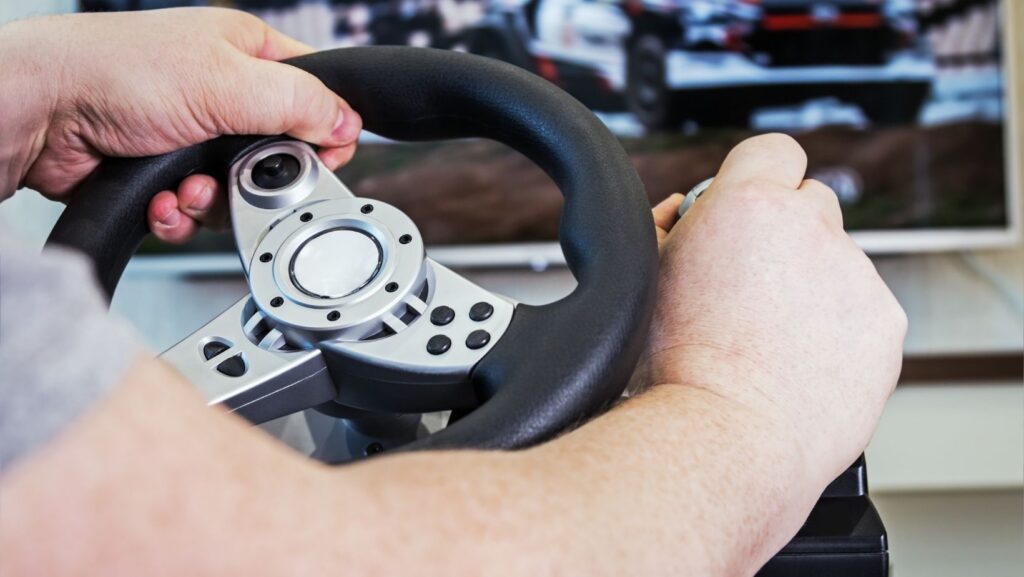 "Gran Turismo 7 almost seems like a remake of the 1997 original." – IGN
There is certainly a lot of nostalgia to be had in Gran Turismo 7. From the gratification of upgrading your cars to the sheer handling of driving some amazing supercars around the expertly designed racing tracks. Gran Turismo 7 offers far more than a simple racing game. There is lots to do and see from traveling around the world unlocking various cars from various countries, to earning different driving licenses through the Gran Turismo Café. Working through the menu books will earn you an enormous collection of reward cars. In fact, this is our recommended strategy. Cars cost a lot to buy, so by completing challenges, you will be able to unlock new cars for free.
One rather large drawback is that you can top-up your GTA 7 account using real money. Whenever a game does this, it seems to leave a sour taste in the mouth of real gamers who would rather be rewarded for their skilful gameplay play and not the size of their wallet. With that being said, we have not been this pleased with a racing car game since the excellent Project Gotham Racing 2.
Magic Eggs
"Fun, colourful and lots of winning potential." – SlotsHawk
An easter themed slot game created by masterful developers Wazdan, Magic Eggs offers a unique take on online gambling thanks to its 'choose your own volatility levels' feature and gamble feature. The Game feature is essentially a double or quite option where you can double your money or lose what you have already won.
Magic Eggs is themed around Easter which is why it has a release date of Easter 2022. You can play a wide range of slot games at the best slot sites as well as different computer and video games including Magic Eggs. In addition, you are also likely to be treated to a welcome bonus when you first sign up. So, if gambling is up your street, then Magic Eggs is a great new game to play.
What Else Will 2022 bring?
Hopefully, some of the games we mentioned above will take your fancy. However, if not, then there are plenty of other highly anticipated games which are set for release in 2022. Here's a short list of upcoming games:
WWE 2K22 – March

Aztech Forgotten Gods – March

LEGO Star Wars: The Skywalker Saga – April

Evil Dead: The Game – May

Mario Strikers; Battle League – June

Saints Row – August