Gaming has been around for many years now. Streaming isn't only advantageous to the streamers but also to the viewers. As a viewer, you can watch plenty of content on the different streaming sites nowadays. The most common content in these sites is games. If you are interested in how to be a streamer, Streamsentials.com might be a good resource to be informed.
Twitch makes everything simple by ensuring that anyone can start streaming right away. Most people don't end up successful or gain a following large base; however, the platform is easily accessible. That's why some people prefer to watch other streamers for fun content.
If you love watching games and esports, Twitch provides you with a place to enjoy high-level gameplay. The platform features plenty of streamers who broadcast most of the games within the competitive scene. On Twitch, you can watch a multitude of games played by various streamers. You can even watch casino streamers play casino games. Streamers like Bidule or Roshtein are very popular in this gaming sector, with slots being their game of choice. If you happen to follow some of the streamers in this sector, perhaps you will be eager to play immortal romance slot.
In this article, we will be focusing on the five top twitch streamers that you should consider following.
Ninja
He is one of the streamers who made it big by streaming Fortnite. Over time, Ninja has been able to smash multiple viewership records, including the highest concurrent viewers on a single stream and most hours viewed. Besides, he is amongst the largest streamers with over 15 million followers on Twitch.
Ninja mainly streams himself playing games, and he began his career streaming H1Z1 and PUBG. In recent years, Ninja also tried streaming Apex Legends, Call of Duty: Modern Warfare, Fall Guys, and Minecraft. Besides being a streaming superstar and a pro Halo player, Ninja is one of the world's famous gamers.
Shroud
The man is known for his ability to master any game he devotes his attention to. Shroud always places high in rankings during all his tournament runs. He is famous for playing titles like Counter-Strike: Global Offensive, PlayerUnknown's Battlegrounds, and Valorant.
When playing a game, Shroud is masterful, and he always rules the battlefield. He finds multiple ways of keeping his viewers entertained all the time. Tuning into his streams means that you get to enjoy the best pro gaming content on Twitch.
Pokimane
If you want to watch one of the best female streamers on Twitch, Pokimane should be your first option. She was born in Morocco, and she is a rising internet star. Besides streaming on Twitch, Pokimane has over 6.3 million subscribers on YouTube. She is famous for playing titles like League of Legends and Fortnite.
Apart from that, Pokimane has a range of merchandise for her supporters. Over the years, she has worked with brands like Winky Lux, and she also creates content for Offline TV on YouTube. Pokimane stands out for being one of the ladies who have been able to stand out in this male-dominated space.
NICKMERCS
Most gamers, nowadays, place their eggs into either Call of Duty: Warzone or Fortnite. However, NICKMERCS is one of the more standout streamers that play both games religiously. His gaming origin is from Gears of War and his pro Halo gaming days. Therefore, he knows a thing or two about making his content look as good as possible.
NICKMERCS is an esports pro and also a part of the FaZe Clan. Besides streaming on Twitch, NICKMERCS uploads his content on YouTube to his growing subscriber list of over 3.4 million. In his free time, NICKMERCS is known to be an avid bodybuilder, thus maintaining his ripped physique.
Tfue
If you have been following Fortnite streams, chances are you know about Tfue. He is one of the top Fortnite streamers, which is fun to watch. Tfue has a background from other games like H1Z1, but his popularity exploded with Fortnite.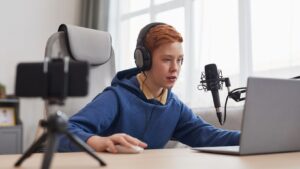 If you tune in to a Tfue stream, you will find him commanding more than 100,000 viewers. Like most streamers, Tfue also has a merchandise line. You can also enjoy his content on YouTube to view some of the fun moments he had on his streams.
Final Take
Twitch is a famous game streaming platform. Most people who try out streaming here don't become famous overnight, but they get to the masses with some patience and great content. Above are some of the best twitch streamers that you should consider watching.
They are not only pros but also the best entertainers on the platform. If you don't want to watch a movie, Twitch is a great platform to consider. Watching gameplay can motivate you to try something new or even learn from these pros. Besides, Twitch is a free platform where you can choose to support your favorite streamer.