Nowadays, more than ever before, there are new gaming titles coming out at an absurd rate. With a new game releasing almost every single day, it is near impossible to pre-plan purchases and know what the next popular title will be. Furthermore, it is very hard to know what new online game etiquette you will need to learn. Some of these titles are cash grabs that ultimately just leave you feeling unsatisfied and bored. So it is imperative you have this guide to make sure you dodge all the gaping potholes in the road ahead.
The focus here will be on the most popular games to play right now that sport online gaming features, making for a well-rounded experience as you can include your friends in action. There are plenty of quality story games, but their popularity is hard to gauge as often there are many other factors other than just an active player base that contributes to their success.
Far Cry

Despite this being a free-roam story mode-based game, the multiplayer support is something gamers cannot ignore. Far Cry is already known for delivering superb, complex, and exciting titles that have had massive success for returning players and new players alike. Their latest conquest has delivered more than anyone could expect and also a villain that can challenge the insane and people's favourite Vaas Montenegro from Far Cry 3.
Along with that, they have added a fully functional cooperative mode to enable you to play with up to 4 friends through the entire campaign from start to finish with an easy drop-in and drop-out method of joining. That has added a layer of immersion that's unmatched as the franchise has already perfected the creation of a free-roam environment that forces you to think in your most primal form. This gives you infinite options of approach for the battle ahead. Stealthy heart-racing moments or adrenaline-fuelling guns blazing approaches? It is all up to you in Far Cry.
Fortnite
Epics' most successful title to date is Fortnite. The free-to-play third-person battle royale is still one of the most popular games in the world. Almost every day, new content is added, and the game is constantly changing in various ways to keep it fresh and keep the lore growing. They have also partnered with an extensive range of celebrities, from sports stars to musicians, to offer you even more content: from live concerts to live movies or even the ability to own celebrities as playable characters.
Fortnite has also partnered with many other companies to provide you with playable superhero characters and many other ways to experience and play the game. Love it or hate it, either way, Fortnite cannot be disregarded. It is one of the most popular games in the world, with player bases reaching peaks of over ten million players at one time, making finding a game in a matter of seconds easy. The added benefits of being able to communicate and invite your friends to play with you make this free-to-play title an easy choice to have a ton of fun with your squad. Hop on the Battle Bus today.
Grand Theft Auto: V
Ready to pull off enough heists to feel like you deserve a spot on Danny Ocean's team? This game has evolved into so much more than anyone could have anticipated. Although Grand Theft Auto: V was initially released on the previous generation of consoles, it is still one of the world's most played games seven years after launch. Every month, it consistently finds itself among the top ten best-selling games. The game has already been crowned the most profitable piece of media to exist in our world's history, topping any money made by movies, making this game a truly immovable force in the industry.
Every month it has over a hundred thousand people playing, which is insane for a game that was released in 2013. Thousands of Grand Theft Auto fans are convinced it is the only game they need due to its constant updates and the interesting role-playing scene that was made possible by the PC base of players using mods and a platform called FiveM. The game's vanilla platform is turning into a car customs-focused playground which has already proven to be a massive success. Their Tuners Update is turning over the highest number of new players the game has ever seen and bringing back older players who just want a taste of this new Need for a Speed style update.
Valheim
Released for early access in February 2021, this title saw instant success. The game's first month on sale grossed just over five million purchases. Valheim is a mixture of Vikings and Minecraft with a touch of Skyrim. In Valheim, you'll have to survive your nail-biting quest until you've found the right loot you need to complete your character's build.
The game offers multiplayer support for one to ten players, and the beautifully detailed settings are inspired by Viking culture, providing a distinctive and intriguing feel with infinite scope. There is an end goal, do not worry; it's not just a sandbox. There are five boss battles that you will have to complete to "beat" the game, but the real place Valheim shines is the organic way the events unfold while you and your friends grind, build and fight many battles to satiate your bloodthirst and satisfy the Norse gods.
League of Legends
There is nothing more populated than good MOBA games, and this was proven by DOTA 2. Despite its age, it still boasts a player base of over three hundred thousand, proving the genre is far from being the dead horse in gaming. However, League of Legends has decided to double down on that fact with over a million players worldwide playing and keeping this game alive since its release in 2009.
The meta is constantly changing, and new characters are added periodically to keep the game fresh and skill ceilings infinitely growing. Admittedly it is not the easiest of games to learn as the skill ceiling is so high, and there are veterans of the game at every corner, making it a daunting experience to pick up for the first time. Do not worry, as there is an abundance of content readily available online to kickstart your game knowledge and give you the necessary edge needed to enter the realm of a MOBA.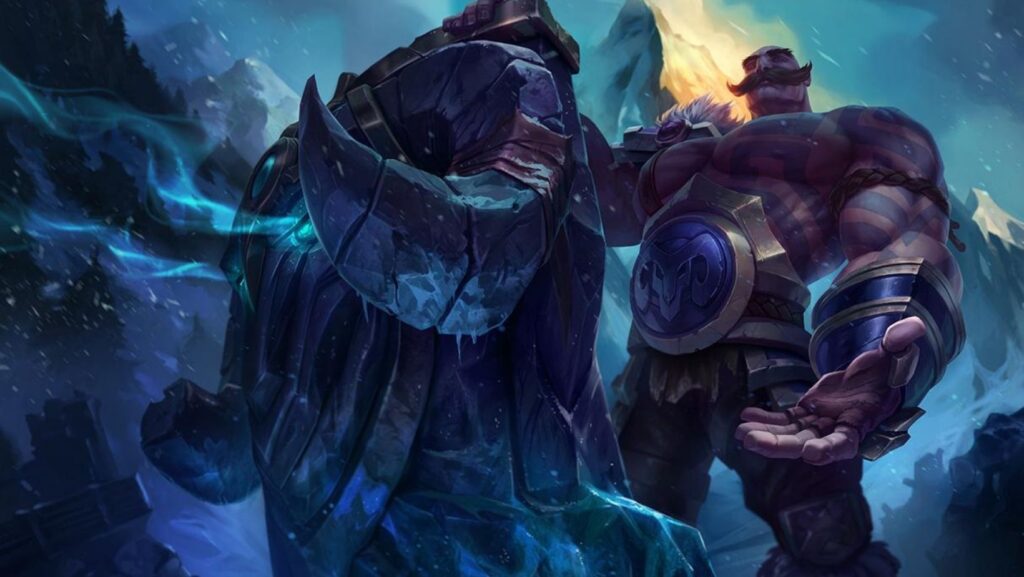 If you're willing to learn and take some time to master one character, you'll find your evolution in the game to be a much easier task. You will get an excellent grasp of mechanics and the levels the skill ceiling truly has to offer when you find your main agent to play with. If you loved playing WarCraft with your friends at a LAN party or internet cafe, you will definitely not regret League Of Legends.